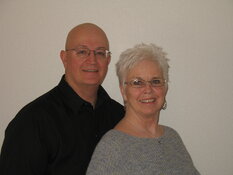 OUR STORY
Pastor Dan and Shirley were both born and raised in the state of Washington and graduated from Kennewick High School. Dan's relationship with Jesus began when he was born again in 1970 and was baptized in the Holy Spirit in Feb. of 1972. After his family found the Holy Spirit when his sister gave birth to a baby she was never supposed to have. This miracle led his family to move to Alaska and become a part of Abbott Loop Christian Center and an out-reach church in North Kenai. That is where Dan began his spiritual learning under Apostle Dick Benjamin. Dan was a part of an out-reach team in early 1974 to birth a new church in Lebanon OR. Later that year Dan returned to Tri-Cities WA and become a part of a church in Pasco call Tri-City Christian Center. That is where he met Shirley. Shirley became a Christian in 1974 after coming to the point of need for change in her life. They met in church and were married in 1976. We have 3 sons who are all married and who have given us 10 wonderful grandchildren.
Pastor Dan was ordained as an elder at Tri City Christian Center in 1978 under Pastor Joseph Thornton. In 1983 Dan and Shirley joined with Dr. Roy Roberts, (Pastor Joseph's spiritual son) in building Calvary Church in Richland WA. Dan was ordained as an elder and associate pastor and served in many capacities at the church until resigning those responsibilities in 1999. God was bringing a change in their lives. After much prayer and seeking the Lord, the call to Yakima came from God. They sold the home they had just built, left family, church and friends and moved to Yakima in December of 2000.
They started Calvary Church of Yakima April 1, 2001. Dan was also the director for "Beacon University Learning Center," formally "Christian Life School of Theology," which they started in Yakima January 2003. Dan has earned his Doctorate Degree December of 2008. The call to Yakima was a real time of growing in the Spirit and building the Kingdom of God in the beautiful Yakima Valley. We made a lot a friend that we well have forever.
In the summer of 2007, we were asked if we would pray about come back to Calvary Church. At that time, we loved our life and church in Yakima. The Lord has a way of turning our hearts when we are not looking for a change. We began to see our heart draw back home and to the church family we left seven years before. So, in December of 2007 God spoke to us that we were to move home. We began to put our house on the market and make the move. Then on August 1st, 2008, we were installed as Lead Pastors at Calvary Church. In 2009 we changed the name of the church to what we have now "Island View Worship Center". We are excited at being home in the Tri-Cities and all that God has for us and the Church. We believe that we will touch the world from the Tri-Cities.